Natural Walnut Baby Rattle by Earnest Efforts
Hi Friends - I just wanted to share the most wonderful thank you note that we received from a young Mom who was the winner of one of our blog review giveaways. This message just thrilled our hearts! Jenni told us we could use her thank you anywhere we like so we've decided to share it with you here.

My name is Jenni and I won a rattle from you a few weeks ago through Life-Semi Crunchy's Blogtastic Extravaganza. I just wanted to say thank you so much. The rattle is so lovely (I love the natural patterns in the sycamore), and you sent another for my other twin! I was very surprised and my family was quite excited to play with them. All of us:-D The twins love their rattles. They like how they make different sounds. My older son loves to play "music" with them as well. It's also so nice to feel wood in hand as opposed to plastic. I was pleasantly surprised by how smooth the wood is as well! I give the rattles to my babies with NO worries, and if you know me (or any mom) you know just how big a compliment that is! Packaging was nice too with info about the rattles and a buffing pad!

Thank you SO much. You obviously are very kind people and make an heirloom quality product.
Thank you Jenni!!! We couldn't have asked for a more wonderful testimonial!
If you are interested in entering to win one of natural wood baby rattles, a new review and giveaway was posted yesterday by Melissa at Home Grown Families.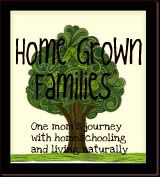 Thanks again for visiting and remember...
Take care, be good & kind, and don't forget to LAUGH!!!
Ellie Efforts (snowbound)